Great, your child is about to start the study!

On the next screen, please make sure that your computer's webcam is on and that your child is visible to the camera while taking the study.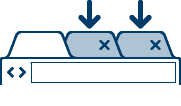 To ensure that the activity runs smoothly, please CLOSE all other tabs, browsers, and other programs. This page should be the only one running -- otherwise, the study may freeze mid-activity.

Once your child is ready you can hit the green START button on the next page to begin the study.

Once your child is finished, hit the red STOP button on the next page and follow the instructions to upload the video.